Item #1013 - Exquisite Needlepoint Hand Made IG Pillow!!!
---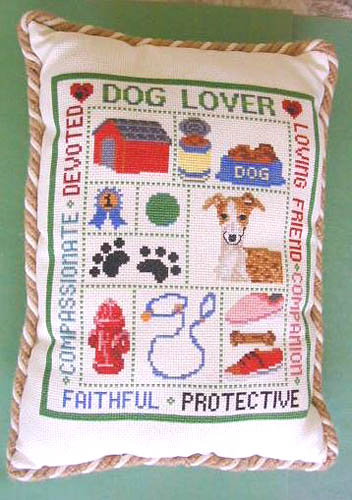 ---
Basset Hound Rescue is once again lending a helping hand to the Iggies!!!!
Here is an exquisite handmade polyester fiber-filled needlepoint pillow.
Diane stitched this pillow with love.
She has worked on behalf of Basset Hound Rescue and is also a new Collie Mom.
Diane loves ALL dogs and would do just about anything to help one.
There is no way to thank her for her continuing dedication and support!!!!

This pillow is GORGEOUS! There are letters that say: "DOG LOVER; LOVING FRIEND; COMPANION; FAITHFUL; PROTECTIVE; COMPASSIONATE; DEVOTED". Actually...that just about sums it up!! The colors are vivid. Around the perimeter is a sturdy beige and creamy white braid. On one side is a beautiful fawn and white Italian Greyhound!!!
Measurements are: 10" x 14".
This is THE PERFECT PILLOW for anyone who truly loves an Italian Greyhound!!!!

Three cheers for Diane!!! Three cheers for Bassets!
Three cheers for Collies!!! Here at IG Rescue we also love ALL DOGS!!!!!

Shipping for this item will be handled by Dianne Beeber
---
This item benefits IGRF (Italian Greyhound Rescue Foundation)
---
Please note: Buyer will send a check for winning bid made out to IGRF
Please mail to:
Diana Petherick
8235 Tipperary Rd
Peyton, CO 80831
* * * * *
If you prefer to use PayPal your Winning Bid Email Notification
will provide a link to a web page with PayPal Buttons.
---
Minimum bid: $35.00 including shipping
Date posted: 05/6/07
Bidding commenced Sunday, May 6, 2007
Bidding on this item will close 8:00 PM Eastern Time, Sunday, May 13th, 2007
---

(Clicking the Bid button above should bring up your configured mail program with the subject line already filled in. If this fails, please follow the "manual email" instructions below.)
Email Blanche Wallace (blanchew@bellsouth.net ), Auctioneer

Please include:
1.Item # in Subject Line.
2.Your name as you would like to see it posted as "High Bidder".
3.Your bid amount.
4.Your email address.
5. If you are placing a bid for someone without internet access, please include that person's name and contact information as well.
---
Final High Bidder is...
K Kimura @ $60.00
Congratulations and Thank You!
---
---
Please contact Carmela Ciampa with questions or concerns about this site.