Item #4008 - IG/Whippet Figurine
---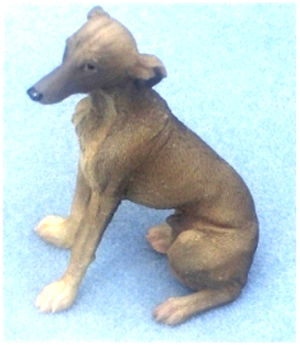 ---
Here is a resin IG/whippet figurine.
Measures: 3 7/8" H x 2" L

Shipping will be handled by Dianne.
---
This item benefits the IGRF.
---
Please note: Buyer will send a check for winning bid made out to IGRF.
Please mail to:
Diana Petherick
8235 Tipperary Rd
Peyton, CO 80831
* * * * *
If you prefer to use PayPal your Winning Bid Email Notification
will provide a link to a web page with PayPal Buttons.
---
Minimum bid: $8.00 including shipping
Bidding commences Sunday, May 27, 2007, 8:00 PM Eastern Time
Bidding on this item will close 8:00 PM Eastern Time, Sunday, June 3rd, 2007
---
Email Blanche Wallace (blanchew@bellsouth.net ), Auctioneer. Please include:

1. Item # in Subject Line

2. Your name as you would like to see it posted as "High Bidder".

3. Your bid amount.

4. Your email address.

5. If you are placing a bid for someone without internet access,please include that person's name and contact information as well.
---
Final High Bidder is..
Congratulations and Thank You!
---
---
Please contact Carmela Ciampa with questions or concerns about this site.