Item #4040 - 2 Books: Real Food for Dogs/Cats
---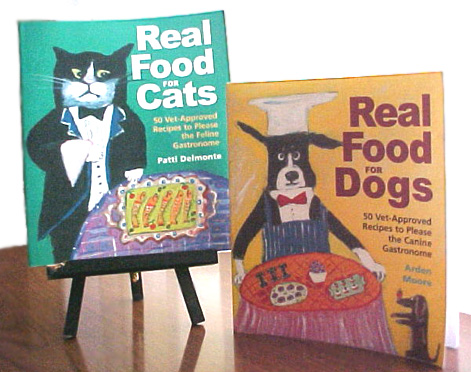 ---
Here are two books filled with 50 Vet-Approved recipes to please both the canine and feline gastronome
Lots of recipes, tips and suggestions and cute drawings.
Example of some of the recipes: Tabby Tuna Popsicles, Kitty Jambalaya, Meowshi Sushi,
Kitty-Size Lasagna, Kitty Pizza, Kitty Fondue, Grassy Goodness Purr-Fect Pasta,
Allergy Diet, Soft Bland Diet, Reducing Diet, Feline Kidney Diet, Restricted Mineral Diet, etc

Parmesan Pleaser, Canine Casserole, Big Dog Delights, Baby Oh Baby Marvelous Meatballs,
TLC Leftovers,Munchy Pup-cakes, Puppy Growth Diet, Meal for Active Dogs, Meal for Senior Dogs,
Hypoallergenic Diet, Doggie Diet for Inactive Canines, etc
Donated by Baby Bear...Thanks!
---
This item benefits the IGSA (Italian Greyhound Safehouse Alliance).
---
Please note: Buyer will send a check for winning bid made out to IGSA.
Please mail to:
Shannon McClure
P.O. Box 381885
Germantown, TN 38183
* * * * *
If you prefer to use PayPal your Winning Bid Email Notification
will provide a link to a web page with PayPal Buttons.
---
Minimum bid: $15.00 (winner to pay for postage)
Bidding commences Sunday, May 27, 2007, 8:00 PM Eastern Time
Bidding on this item will close 8:00 PM Eastern Time, Sunday, June 3rd, 2007
---
Email Blanche Wallace (blanchew@bellsouth.net ), Auctioneer. Please include:

1. Item # in Subject Line

2. Your name as you would like to see it posted as "High Bidder".

3. Your bid amount.

4. Your email address.

5. If you are placing a bid for someone without internet access,please include that person's name and contact information as well.
---
Final High Bidder is..
Congratulations and Thank You!
---

To Auction Item List
---
Please contact Carmela Ciampa with questions or concerns about this site.