Item #5004 - "We go together" Umbrella Set
---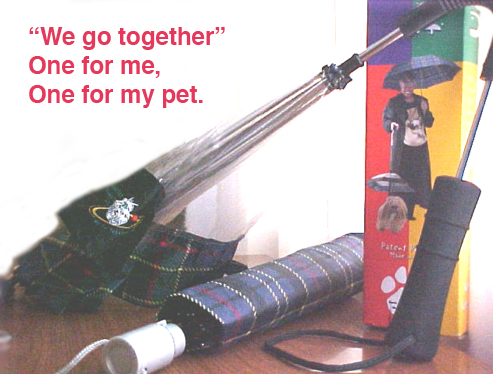 ---
Here is a fun "We go together" Umbrella Set
One for me, One for my pet...

Keeps us dry and comfortable in rain, sleet or snow.
Pet umbrella leash attaches easily and quickly to pet's collar.
Pet umbrella has an ergonomic angled handle with padded comfort grip.
Pet umbrella's clear body gives you full view of your pet.
My umbrella folds to 15", opens to full size and opens with a push of a button.

Donated by Sugarbear.......Thank you very much!
---
This item benefits the IGCA Health Fund.
---
Please note: Buyer will send a check for winning bid made out to IGCA Health Fund.
Please mail to:
Diana Petherick
8235 Tipperary Rd
Peyton, CO 80831
* * * * *
If you prefer to use PayPal your Winning Bid Email Notification
will provide a link to a web page with PayPal Buttons.
---
Minimum bid: $25.00 (shipping cost to be paid by winner)
Bidding commenced Sunday, June 3, 2007
Bidding on this item will close 8:00 PM Eastern Time, Sunday, June 10th, 2007
---
Email Blanche Wallace (blanchew@bellsouth.net ), Auctioneer. Please include:

1. Item # in Subject Line

2. Your name as you would like to see it posted as "High Bidder".

3. Your bid amount.

4. Your email address.

5. If you are placing a bid for someone without internet access, please include that person's name and contact information.
---
This item is still available.
Current High Bidder is...
Congratulations and Thank You!
---
---
Please contact Carmela Ciampa with questions or concerns about this site.