Item #6008 - Green Ceramic Sculptured IG Head Pendant
---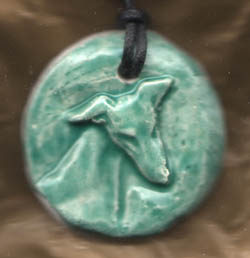 ---
This is an original hand-pressed ceramic pendant by Sarah Regan Snavely.
The relief head study pendant is press-molded from an original clay relief sculpture and
twice fired to nearly 2000 degrees for durability.
The pendant is signed and dated by the artist.
Measures approx: 1.75" in diameter.
Attached is a 25" leather cord.
ONE ONLY!
Shipping for this item will be handled by Carmie.
---
This item benefits the IGRF.
---
Please note: Buyer will send a check for winning bid made out to IGRF.
Please mail to:
Diana Petherick
8235 Tipperary Rd
Peyton, CO 80831
* * * * *
If you prefer to use PayPal your Winning Bid Email Notification
will provide a link to a web page with PayPal Buttons.
---
Minimum bid: $19.00 including shipping
Bidding commenced Sunday, June 10, 2007
Bidding on this item will close 8:00 PM Eastern Time, Sunday, June 17th, 2007
---