Item # 7005 - Oval Ceramic IG Portrait Pendants
---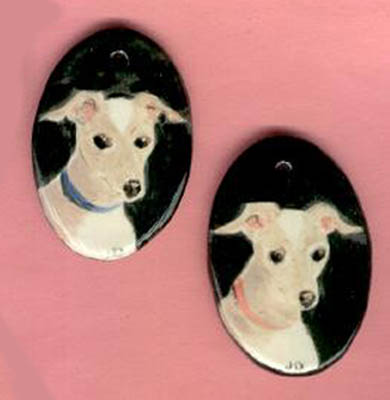 ---
Here are handpainted ceramic pendants by Rochester artist, Judith Dundon.
No two are exactly alike.
On the front of each elegant black pendant is a gorgeous IG portrait.
There are openings where a chain or cord of your choice can be inserted.
Measures approx: 1 5/8" x 2 3/8".
Three Available
PLEASE indicate your choice: pink or blue collar version.
Shipping for this item will be handled by Carmie
---
This item benefits the IGCA Health Fund.
---
Please note: Buyer will send a check for winning bid made out to IGCA Health Fund.
Please mail to:
Diana Petherick
8235 Tipperary Rd
Peyton, CO 80831
* * * * *
If you prefer to use PayPal your Winning Bid Email Notification
will provide a link to a web page with PayPal Buttons.
---
Pendant A - Minimum bid: $12.00 including shipping
Pendant B - Minimum bid: $12.00 including shipping
Pendant C - Minimum bid: $12.00 including shipping
Bidding commenced Sunday, June 17, 2007
Bidding on this item will close 8:00 PM Eastern Time, Sunday, June 24th, 2007
---