Item # 7017 - Custom Holiday Cards
---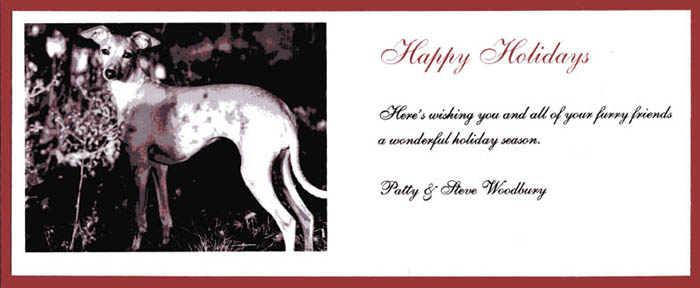 ---
Printed on heavy card stock-double layered.
Matching envelopes finish off a very special greeting.
Size of card is app. 9 1/8" x 3 3/8" and matching envelope is included.
Custom printed with your text and pic. 6 cards to a set.
Donated by Terry Cameron....Many Thanks!
Shipping for this item will be handled by Patty.
---
This item benefits the IGRF.
---
Please note: Buyer will send a check for winning bid made out to IGRF.
Please mail to:
Diana Petherick
8235 Tipperary Rd
Peyton, CO 80831
* * * * *
If you prefer to use PayPal your Winning Bid Email Notification
will provide a link to a web page with PayPal Buttons.
---
Minimum bid: $15.00 including shipping
Bidding commenced Sunday, June 17, 2007
Bidding on this item will close 8:00 PM Eastern Time, Sunday, June 24th, 2007
---