Item # 7024 - UNIQUE IG Greyhound Whippet Necklace & Earrings WOW!
---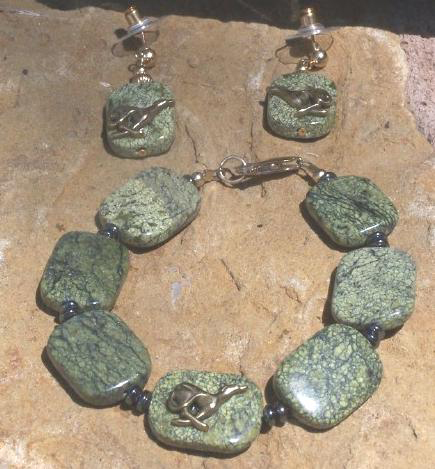 ---
Here is an absolutely unique one of a kind matched earrings and bracelet set.
It is made of polished natural stone and small beads.
The running dog is an IG, Whippet or a Greyhound....probably an IG because it is so delicate.
This one could be argued three ways, however. <G>
In any case it is well proportioned, detailed and absolutely graceful.
The earrings are for pierced ears.
The bracelet measures 7 3/4" long.
The set is brand new and never worn.
It is absolutely lovely!
Sale of this item benefits Halfway Home Greyhound Adoption. Among other things this organization hauls Greyhounds from tracks to different Greyhound adoption groups all over the country. Literally thousands of Greyhounds have been helped by HHGA. Teddy Palmer, sole proprietor of the outrageous Tulsa Sighthound Hilton Hotel, spends much of her life on the road hauling Greyhounds. Here at IG Rescue...we love the inflated, giant size version of Iggies very much too. Heck..all of us love dogs....just about any dog and would do anything to help any canine in need. Although IG Rescue is much busier than we'd like to be...our problems are minimal compared to what Greyhound Rescue faces. Over the years Teddy Palmer has supported Italian Greyhound Rescue in just about any way she could. Now this is our chance to help the Big Iggies that she loves too!!! After all...this is The BIGGY Iggy Auction!!
Shipping for this item will be handled by Teddy Palmer.
---
This item benefits the Halfway Home Greyhound Adoption.
---
Please note: Buyer will send a check for winning bid made out to HHGA.
Please mail to:
Rhonda Morgan
4620 E. 78th St
Tulsa, OK 74136
* * * * *
If you prefer to use PayPal your Winning Bid Email Notification
will provide a link to a web page with PayPal Buttons.
---
Minimum bid: $35.00 including shipping
Bidding commenced Sunday, June 17, 2007
Bidding on this item will close 8:00 PM Eastern Time, Sunday, June 24th, 2007
---