Item # 8016 - Sojos European-Style Dog Food Mix
---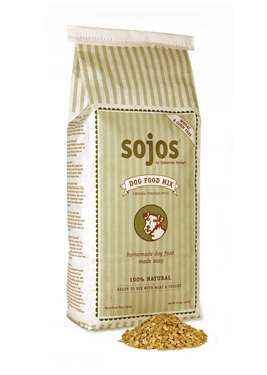 ---
Maggie Johnson with Sojourner Farms has donated a 10# of Sojos European-Style Dog Food Mix.
Thank You!
This Sojos original food and the first of its kind, is a wholesome pre-mix that you combine with
meat and veggies to create your own fresh, homemade pet food.
Now re-formulated to be wheat & corn free.
Also contains added calcium for strong teeth and bones.
Ingredients: Rolled Oats, Rye Flakes, Barley Flakes, Ground Pecans,
Natural Calcium Carbonate, Kelp Powder, Carob Powder, Parsley, Nettles Leaf
Shipping for this item will be handled by Maggie Johnson.
---
This item benefits the IG Safehouse Alliance.
---
Please note: Buyer will send a check for winning bid made out to IGSA.
(Italian Greyhound Safehouse Alliance)
and mail to:
Shannon McClure
P.O. Box 381885
Germantown, TN 38183
* * * * *
If you prefer to use PayPal your Winning Bid Email Notification
will provide a link to a web page with PayPal Buttons.
---
Minimum bid: $15.00 including shipping
Bidding commenced Sunday, June 24, 2007
Bidding on this item will close 8:00 PM Eastern Time, Sunday, July 1st, 2007
---