Item # 8033 - 10" Triple Strand ~ African Turquoise & Hematite
---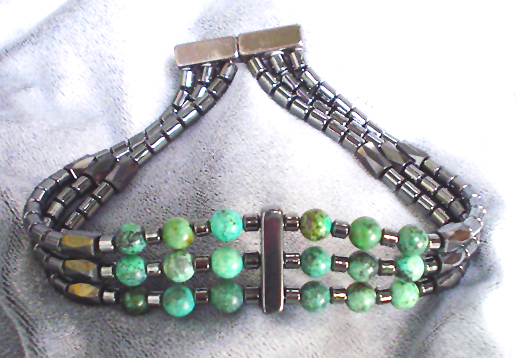 ---
The quality speaks for itself in this 10" triple strand hematite and African turquoise creation.
Like every piece from Sui Generis, this IG accessory was hand-crafted and
designed on nylon-coated jeweler's wire for durability.
It fastens securely with a strong magnetic hematite clasp and will arrive with
its own black tag bag with a Velcro closure.
(This is decorative canine apparel and should not be attached to a leash.)
Shipping for this item will be handled by Julie Payne.
---
This item benefits the IG Safehouse Alliance.
---
Please note: Buyer will send a check for winning bid made out to IGSA.
(Italian Greyhound Safehouse Alliance)
and mail to:
Shannon McClure
P.O. Box 381885
Germantown, TN 38183
* * * * *
If you prefer to use PayPal your Winning Bid Email Notification
will provide a link to a web page with PayPal Buttons.
---
Minimum bid: $30.00 including shipping
Bidding commenced Sunday, June 24, 2007
Bidding on this item will close 8:00 PM Eastern Time, Sunday, July 1st, 2007
---