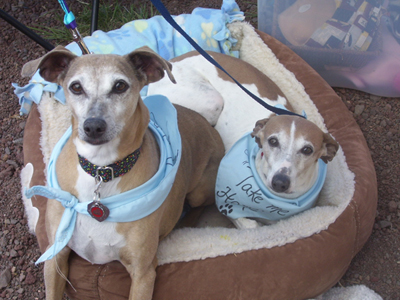 Buster and Jack at an adoption event.
Holly Mastromatto writes:
Jack is no longer with me....we had to move him to Las Vegas a week ago to an apartment foster home since he jumps over 6 foot fencing and can't have access to outside. Crazy dog! Anyway, he is doing great there and we are scheduling his surgery this week.

Also, they now "belong" to Wiseguys IG Rescue and Silver Hounds is just sponsoring them.
(See items 7017, 7018, 7019, 7020, 7021, 7024, and 7027 for the original story)