Dearest Queen Gracie,
First of all, I must tell you I have admired you from a far for many years. I know I will never be so honored as to have you look down your long beautiful nose at me, but I can still dream.
I am so happy to learn of your new advice column. I know you will have great success with your new column and will never allow the humans to take advantage to your good and charming nature. I have recently found myself in a very humiliating situation and I desperately need your great and always humble iggy wisdom.
I realize you would never think to pee anywhere but the most royal of places, so this all may be hard for you to understand. I, however, am perfectly comfortable with occasionally lifting my leg in places the humans are not very appreciative of. I actually take great delight in doing it, as I like to see them get a little upset. Well, here is the situation:
I was thrilled to discover my humans had put a chamber pot floor level for my own personal use. With the sub zero temperatures outside and mounds of snow everywhere, it was only logical to think the lovely Lenox China Dish was my own personal pee pot. Nope! Turns out I was wrong. They took pictures of my mistake and they sent them all over the Internet to friends, family, and strangers around the world.
I am humiliated by the whole incident. My iggy sister is a cruel beast! She has taken this opportunity to laugh at me each chance she can and she always swoops in to grab treats that used to me for me. My iggy brother Pepie has been very supportive and a offers the only helping paw I can turn to. My humans are threatening taking me to court for damages to that dish. I promise you my Royal and Dearest Queen Gracie I did not damage that dish.
Embarrassed, Afraid, and Tired of Winter,
Farfalle in CT
(p.s. I have attached photos of 1. current Connecticut DREADFUL weather conditions making the idea of piddling outdoors UNTHINKABLE 2. my handsome, innocent and charming self 3. the chamber pot...uh Lenox dish complete with piddle and 4. my laughing sister Sweet Pea.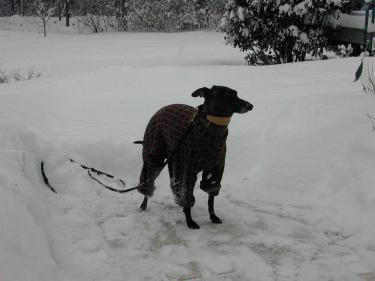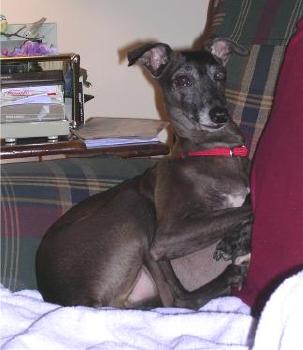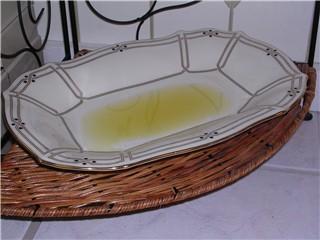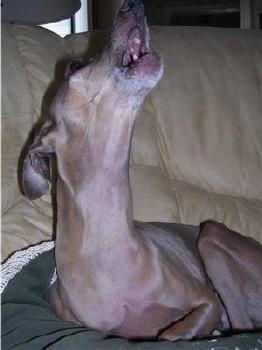 Dear Farfie,
The Royal We is shivering in her shoes just thinking about all that painful, excruciating and horrendous white stuff. As you know we are currently residing in Our sunny Florida Royal Palace. Anyway...here is some guaranteed advice:
1. Send a certified registered letter to Mrs. Sue and THE Turkey. Give them two choices for future piddle placement: A. on the furniture or B. in the Lenox Chamber Pot. They can take their pick.
2. Ask Sirius S. Lewis, Esq. Canine Shyster...er Attorney at Law to start legal proceedings against both your parents. As a result of those malicious pix that were sent nearly EVERYWHERE you suffered: A. humiliation B. hurt feelings C. stomach distress and D. neck whiplash. This is your chance to make a killing for at least 1,000 bones.
3. As for Sweet Pea...OFF WITH HER HEAD!!! On second thought...you better forgive her. From what I hear your Mom is considering the possible adoption of a Pomeranian. She thinks they're "cute". We shudder at the very thought. Whatever you do...keep Sweet Pea alive, well and still laughing. Believe me...there is WORSE than Sweet Pea. THE LAST thing you need is the disgrace of a Pom sister!!!!
Following the above advice will guarantee you good health, good looks and LOTS of treats!!!
Love,
Your GREYT Queen Gracie